Apple TV IP Driver
Description
Version 3.0
Note: this driver does not support the new ATV4.
This driver is an IR replacement driver for controlling the Apple TV (Gen 1/2/3), which now includes coverart, feedback and search functionality!
Free up an IR port on your XP processor and avoid having to spend time running cable for the emitter!
Version 2.0 added support for a dynamic keyboard with a shift key that can cycle through lower/uppercase/symbols, without having to draw 3 separate keyboards!
Version 3.0 added coverart for most media types and remote browsing of iTunes Radio Stations (please note: iTunes Radio is currently only available in the US and Australia)
Adds all the same commands as the IR remote:
Cursor control (up/down/left/right)
Menu
Select
Play/Pause
Plus a few more:
Jump to Home Screen
Context Menu
Play
Pause
Next
Previous
Shuffle
Repeat
The following feedback is available:
Online State
Paired State
Device Name
Config Name
Play
Pause
Shuffle
Repeat
Artist
Album
Track Name
Genre
Station Name
Rating
Movie/TV Synopsis
Track Length
Track Position
Coverart *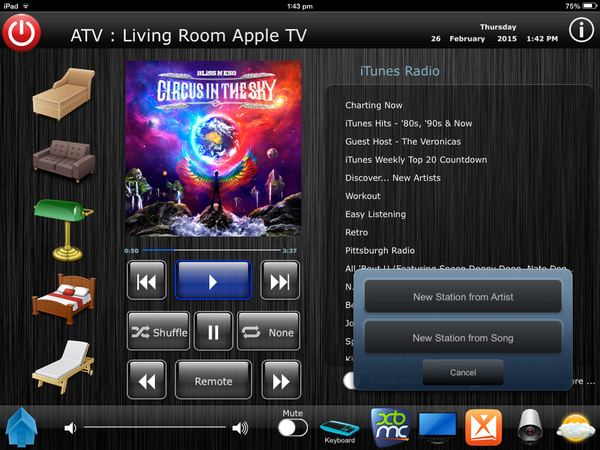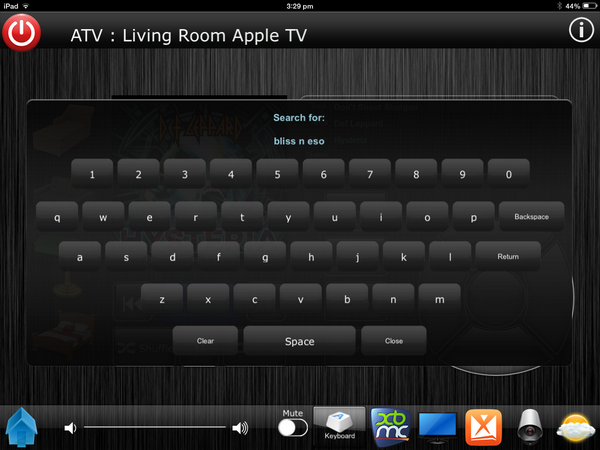 We recommend this driver is only used on modern processors (XP3/6/8s) as it requires a fair amount of CPU grunt to perform its magic.
Version 1.5: Added support for unicode album/artist/title/genre names.
Version 1.6: Added multiple end point support (views).
Version 1.7: Added dynamic keyboard support.
Version 2.0: Added iTunes id decoding, making coverart much more likely to match what the ATV is showing.
Version 2.1: Fixed coverart for Airplay. Available here