Clipsal C-Bus
The Clipsal C-Bus system is a product synonymous with smart homes and automation and the My Device team are ready to help you design and program a C-Bus system that will make all the lighting and electronic subsystems in your new home fun and easy to live with!
C-Bus allows you to tie all the homes electrical subsystems together into one easy to use package.
My Device specializes in Residential and Commercial systems. Our technicians are programmers and understand the intricacies of complex lighting systems, making us ideal for both new work and troubleshooting existing installations.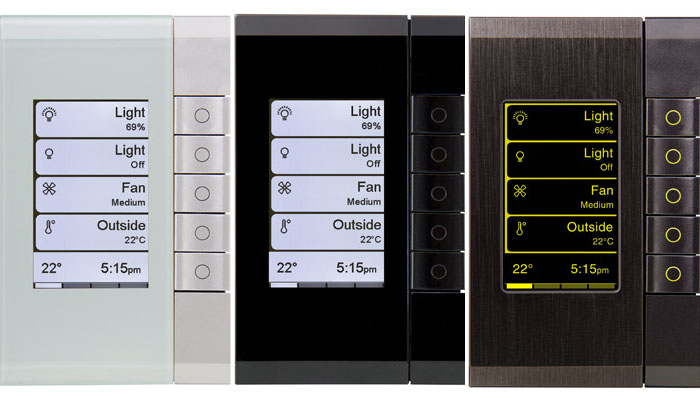 Control:
Lighting
Security
Air Conditioning
Ceiling Fans
Sprinkler Systems
Colour Changing LEDs
Audio Visual
Blinds and Curtains
Garage Doors
Pool Pumps
Water Features
DMX Lighting Integration
DALI Lighting Integration
The C-Bus system also allows the home owner to save money on their energy costs through clever programming and hardware.  Why not put you hallway lights on sensors so that lights only come on when motion is detected? or dimmers that allow you to set a maximum turn on level? and for the kids that never turn off their bedroom lights... make their light switch a 5 minute timer.
C-Bus also offers the ability to tie in your lighting with the homes security system for example if your smoke detectors go into alarm C-Bus could react to this and illuminate all the walk ways in the house so you and your family could exit safely, or maybe if a break in is detected all the exterior lights around the house could start flashing to attract attention.
C-Bus also offers the ability to be tied in with full blown automation control systems like RTI.  These systems allow you to control all your lights from simple and easy to use touch panel interfaces around the home or from the other side of the world!  Imagine holidaying in Europe and being able to log into your home over the Internet to check security cameras or even open the garage door to let a tradesman in!
We service the greater Brisbane and Sunshine Coast areas in Queensland and Melbourne and its surrounding suburbs in Victoria.
Contact us now to learn more about what C-Bus and the My Device team can do for you on your next building project.