Cisco Phone Menu Driver
Description
Version 2.2
This driver adds control and feedback from an RTI XP processor to Cisco IP phones.
With this funky little driver you can now trigger macros from your Cisco 7940/7960 IP phone!  Imagine being able to hit a button on your phone and switch the house lights to welcome home mode, or trigger the sprinkler system from the comfort of your desk.  The nerd factor is truely off the charts with this one :)
Features:
Fully customizable menu.
Static / Boolean / External / URL based menu items.
Display text based on the current status of the system (see photos below).
Trigger any system macro directly from the phone.
Sample project file included.
Works with Cisco CallManager and CallManager Express.
Tested with 7940, 7960 and 9971 phones, but should work with any model that is capable of displaying the services menu.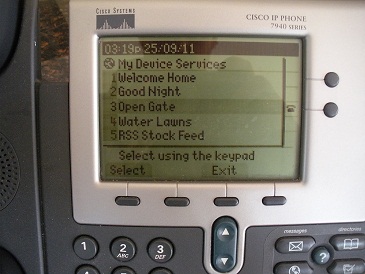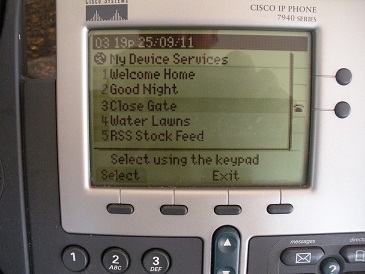 Version 2.2: Adds support for the latest XP3/6/8 firmware